COVID-19 risk assessment framework: Re-introduction of 'stood down' NHSScotland volunteers
COVID-19 risk assessment framework
This framework will allow staff who manage NHS volunteers to consider the risks of bringing back volunteers who had been 'stood down' during the pandemic.
Before reintroducing 'stood down' volunteers it is good practice to review your existing volunteer role risk assessments.
This framework includes practical information and a suggested risk assessment template which will help staff to consider the level of risk to the role and to individual volunteers, as well controls which can be put in place to reduce or manage the risk.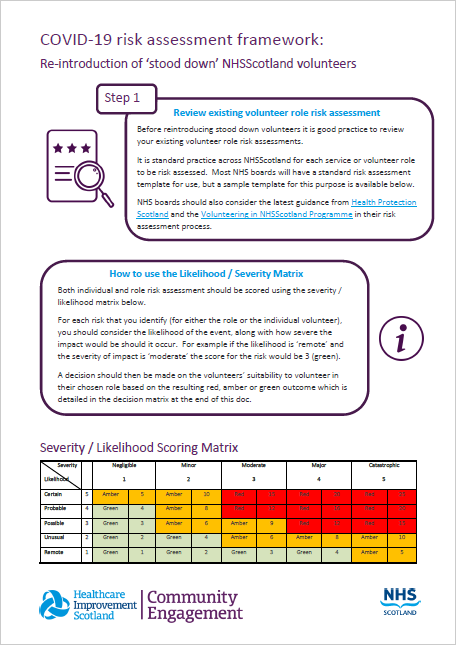 Download framework
File type: pdf
File size: 865 KB

Review existing volunteer role risk assessment
Before reintroducing 'stood down' volunteers it is good practice to review your existing volunteer role risk assessments.
It is standard practice across NHS Scotland for each service or volunteer role to be risk assessed. Most NHS boards will have a standard risk assessment template for use, but a sample template for this purpose is provided in the document.
NHS boards should also consider the latest guidance from Health Protection Scotland and the Volunteering in NHSScotland Programme in their risk assessment process.
Both individual and role risk assessment should be scored using a severity / likelihood matrix.
Individual volunteer risk assessment
NHS boards are advised to carry out an Individual Risk Assessment for all volunteers alongside the use of the COVID-19 age tool.
All volunteers undertaking an individual risk assessment should expect the results of their risk assessment to be formally recorded on a template, and to be provided with a copy.
The individual risk assessment may be used to determine a volunteer's suitability to return to volunteering in their chosen role, and should be carried out in conjunction with the volunteer. 
All potential outcomes of the risk assessment should be communicated clearly and sensitively to volunteers in advance of the risk assessment being carried out. 
Should the risk assessment lead to an individual not being able to volunteer, an explanation of the reasons why it is not appropriate should be shared with the volunteer.
A sample individual risk assessment template is provided in the document.
Managing the results of the Risk Assessment
A decision should then be made on the volunteers' suitability to volunteer in their chosen role based on the whether the decision matrix indicates a low, moderate or high risk.
In making your decision on the overall assessment of risk, you should consider all scores in both the role risk assessment and the individual risk assessment.