Developing volunteering toolkit
Developing Volunteering Toolkit
The Developing Volunteering Toolkit will support staff to involve colleagues in short and tailored engagement sessions. It should provide the necessary tools to explore the concept of volunteering, understand the boundaries of volunteering and to ensure that:
staff are prepared for volunteering
staff are receptive to volunteers
staff are confident in engaging with volunteers
staff have ownership over the development of volunteer roles, and
staff, patients and volunteers benefit from the volunteer roles.
The tools have been developed to cater for a range of circumstances, taking into account the environment and any history of volunteer engagement.
The Toolkit was originally created to support staff engagement in hospital-based settings within NHS Greater Glasgow and Clyde, and to help to develop a culture that supports volunteering. It has since been piloted in other NHS boards (NHS Health Scotland, NHS Shetland and The State Hospital) and further developed to allow use in community and other health and care settings.
Editable checklist
The Developing Volunteering Checklist (DOC 50.5 KB) can help when developing roles for volunteers in NHS boards and healthcare settings.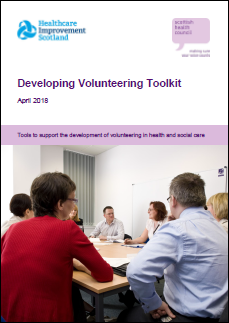 Download toolkit
File type: pdf
File size: 2 MB
Publication date: April 2018