Volunteering in NHS Scotland during COVID-19
Remobilisation of Volunteering in NHS Scotland (COVID-19)
The COVID-19 pandemic has led to significant changes in volunteer management practice in NHS Scotland.  The Scottish Government published its plans to restore greater normality to our lives in a phased way.
Volunteering has an important role to play across NHSScotland but the COVID-19 pandemic has had a significant impact on the levels of volunteering activity. At the beginning of the pandemic levels of volunteering within NHS Scotland reduced significantly in order to ensure the safety of volunteers. Some new volunteering roles have emerged during this time, for example to support the flu vaccination programme and more recently in the COVID-19 vaccination programme.  However, a large proportion of volunteer roles across NHS Scotland remain 'stood down' since March 2020.
On 4 May 2021, the National Group for Volunteering sent recommendations on the remobilisation of volunteering in NHS Scotland to the Executive Lead for Volunteering in each NHS board.
This Guidance for the Remobilisation of Volunteering in NHS Scotland was published on 4 May 2021, and sets out, in detail, the recommendations, options and approaches for NHS boards to consider in the remobilisation of volunteering.
The guidance is regularly updated in response to Scottish Government guidance, by the National Group for Volunteering supported by the Volunteering in NHS Scotland programme.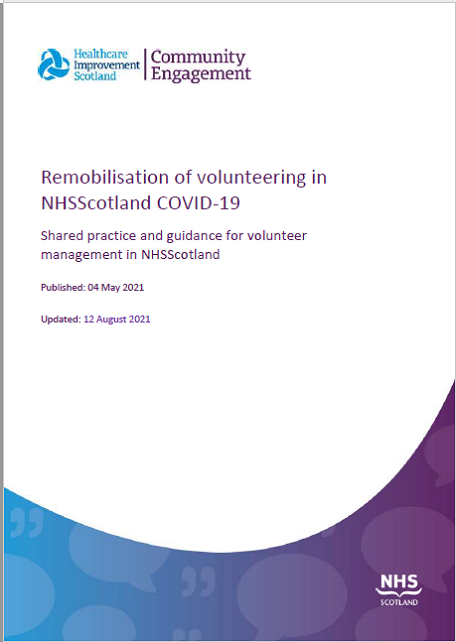 Download guidance
File type: pdf
File size: 712 KB
Publication date: May 2021
Key points
This guidance is dependent on the local protection levels across Scotland, and should be applied accordingly, taking into account any COVID-19 outbreaks or variant strains of the virus.
Many services, patients and the currently 'stood down' volunteers will benefit from a safe and measured return of volunteering.
Comprehensive and well considered risk assessment processes should be implemented to ensure any volunteering activity is being carried out as safely as possible.
Advice and guidance can be sought from the Volunteering in NHSScotland Programme Team. Please contact his.volunteering@nhs.scot in the first instance.
This guidance replaces the Volunteering in NHSScotland COVID-19 Guidance (PDF 1.1 MB).
Developing volunteer roles
The Developing Volunteering Checklist (DOC 50.5 KB) can help when developing roles for volunteers in NHS boards and healthcare settings.
A number of NHS boards have shared role descriptions for roles developed to respond to the COVID-19 pandemic:
Example risk assessments
The following risk assessments have been shared by NHS boards as examples. Please note that these were written before the latest guidance from Health Protection Scotland.