Volunteering in NHS Scotland during COVID-19
Volunteering during COVID-19
The COVID-19 pandemic has led to significant changes in volunteer management practice in NHS Scotland. This paper collates a number of sources of guidance and practice, drawing from developments across NHS Scotland and beyond to support more rapid spread of practice with a focus on safety and retaining the integrity of volunteering.
On 17 March, the National Group for Volunteering sent recommendations (PDF 232 KB) to the Executive Lead for Volunteering in each NHS board.
Following the recommendations, NHS boards:
suspended all volunteering, or
suspended volunteering in high-risk areas and/or asked volunteers who fall into 'at risk' categories not to attend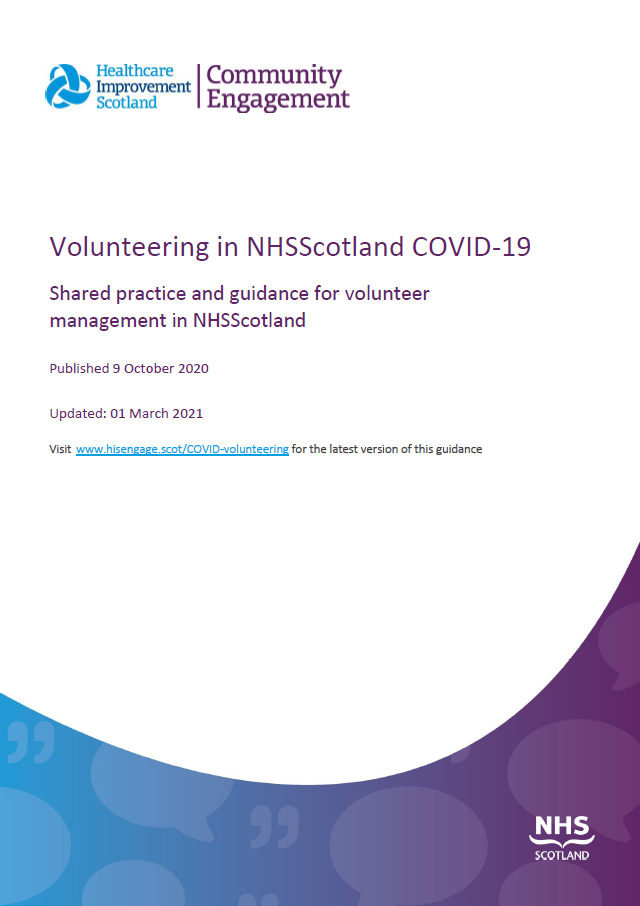 Download guidance
File type: pdf
File size: 1 MB
Publication date: October 2020
Since March, a number of NHS boards have reactivated volunteering programmes and are recruiting to a limited number of volunteer roles, most commonly related to ward volunteering and other support roles that do not take place in COVID-19 areas.
Through national, high-profile volunteering campaigns many NHS boards have experienced an increase in volunteer enquiries and applications, whether there are roles on offer or not. This guidance includes suggestions for role development and the safe and measured return of volunteering in NHS Scotland.
This guidance is regularly updated in response to Scottish Government guidance by National Group for Volunteering supported by the Volunteering in NHS Scotland programme.
Key points
Any volunteering that takes place during the COVID-19 pandemic should be safe for volunteers, patients, staff and the families of all involved.

Terminology must be clear. Volunteering differs significantly from people returning to the workforce. It does not apply to paid staff being reassigned to other duties in the same or in another organisation.

The volunteer recruitment process can be streamlined through a number of measures contained in this paper. It took on average 14 weeks nationally pre-pandemic for someone to become a volunteer.

The return of existing volunteers to NHS Scotland can be managed in a safe and phased manner, ensuring compliance with evidence-based methodology and national guidance into roles where risks have been assessed and mitigated.

Mitigating risk of infection and transmission of the coronavirus requires risk assessment of the volunteer role and an individualised assessment for the individual.

The use of the COVID-19 Age Tool for screening new and returning volunteers is encouraged for local decision-making.

Advice and guidance can be sought from the Volunteering in NHSScotland Programme Team. Please contact volunteering@hisengage.scot in the first instance.
Developing volunteer roles
The Developing Volunteering Checklist (DOC 50.5 KB) can help when developing roles for volunteers in NHS boards and healthcare settings.
A number of NHS boards have shared role descriptions for roles developed to respond to the COVID-19 pandemic:
Example risk assessments
The following risk assessments have been shared by NHS boards as examples. Please note that these were written before the latest guidance from Health Protection Scotland.