Volunteering Handbook
Volunteering in NHSScotland: a handbook for volunteering
This handbook was produced by the National Group for Volunteering to support NHS boards in developing their volunteering programmes.
It contains examples of good practice for NHS boards to consider, taking into account the developing arrangements for volunteer management within the NHS in Scotland.
As the Volunteering in NHS Scotland programme continues to support NHS boards to develop and sustain their volunteering programmes, the handbook will be reviewed on an ongoing basis to ensure that new examples of good practice are shared.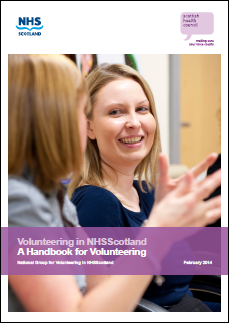 Download report
File type: pdf
File size: 1 MB
Publication date: February 2014