Development of Volunteering in Health and Social Care Integration Authorities
Volunteering in Integration Authorities
This report contains the findings of work undertaken by Research Scotland into the aspirations and development needs of Scotland's health and social care integration authorities on the subject of volunteering.
Chief Officers of integration authorities said that they understood the benefits of volunteering to service users, to the organisations and to the volunteers themselves. Strategic direction for volunteering is being set locally by the NHS boards and local authorities, rather than at the level of the integration authorities.
The report also found that integration authorities were willing to access local support through Third Sector Interfaces and to learn from the delivery of the Volunteering in NHS Scotland Programme.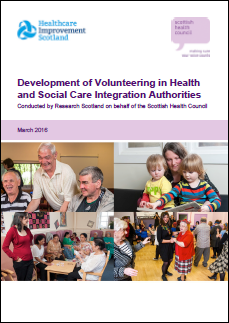 Download report
File type: pdf
File size: 2 MB
Publication date: March 2016
Impact
Third Sector Interfaces were invited to an engagement meeting where the findings of this report were presented and discussed. A summary of the discussion was made available in July 2016.