Service change resources
Carrying out a Health Inequalities Impact Assessment when proposing changes to services
A Health Inequalities Impact Assessment (HIIA) considers the impact of a proposed change and makes sure that any potentially negative effects have been taken into account. Impact assessment is important for NHS boards to check that their policies, practices and services do not inadvertently exclude or discriminate against groups of people, and provides an opportunity to promote equal opportunities and foster good relations.
Working with NHS Health Scotland, we identified two projects to pilot the integration of Health Inequalities Impact Assessment with the service change process: a review of the Scottish Breast Screening Service and the development of a Primary Care Resource Centre at Queen Margaret Hospital. The approach was piloted in 2010 with NHS boards and the Scottish Government, following a recommendation in Equally Well, and has been used across a wide range of policy and service areas since then.
Using the learning from the case studies, and experience of the two processes, we developed a flowchart describing how impact assessment works alongside service change. Although there may be local variation as to how NHS boards approach impact assessment and service change, this should help demonstrate how to align impact assessment with service change processes.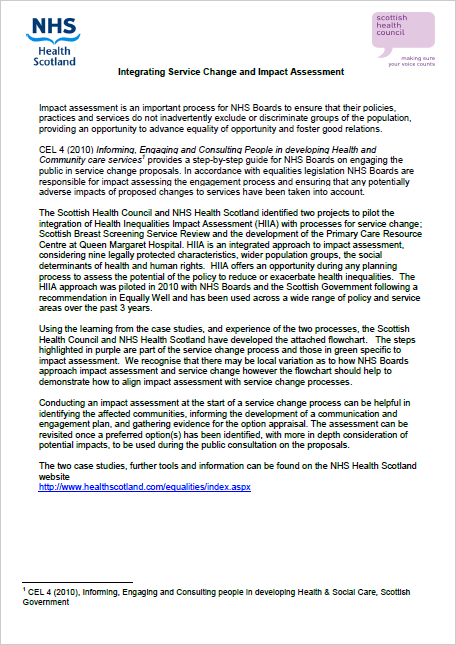 Download the flowchart
File type: pdf
File size: 156 KB
Publication date: February 2014