Volunteering Practitioners' Network
Volunteering Practitioners Network
We offer a package of support to volunteer managers and staff supporting volunteering activity in health settings.
This includes:
bi-monthly peer networking sessions (virtual)
regular practice development sessions (virtual)
face-to-face peer network and practice development sessions
access to our "volunteering helpdesk" for support on any query related to volunteering
access to our virtual Volunteering Community of Practice, where members can find information on a range of volunteering related topics, up-to-date research and evidence, training, events, blogs and articles. Members can share their own resources and documents in the resources library and can give and get support from the network of 80+ volunteer managers across Scotland.
If you would like to join our Volunteering Practitioners' Network please email his.volunteering@nhs.scot
Annual Survey of Volunteer Practitioners' Network
We carry out an annual survey of members of the NHS Scotland Volunteering Practitioners' Network. 83% of respondents in 2022-23 told us that they found the network useful. Feedback from members has helped us to identify the following recommendations for improvement:
Carry out an improvement project to better understand more about our network membership and consider how we can increase levels of engagement across all of our support provision.
Continue provision of the Community of Practice whilst encouraging an uptake of use by current non-using network members.
Gather examples of templates and resources used by volunteering teams for the 'files' section of the Community of Practice.
Invite topics for discussion to be submitted by members in advance of peer networking sessions.
Carry out an evaluation at the end of each practice development session, and remove this question from future annual surveys.
Offer more than one date for each practice development session or alternatively, record all sessions and share via the Community of Practice.
Create an FAQ of commonly asked queries received via the Volunteering Helpdesk, and share via the Community of Practice.
Include a session on Inclusive Volunteering at a hybrid Volunteering Practitioners Network event.
Develop a programme of practice development sessions based on topics suggested.
Draw up a plan for the development of national guidance and resources based on suggested topics
Take the suggestion for an open letter or recommendation that NHS boards should be providing a budget for volunteering, over and above staff pay costs, to the NHS Scotland Volunteering Advisory Board for consideration.
Carry out a scoping exercise to develop a plan for national education and training development for volunteers.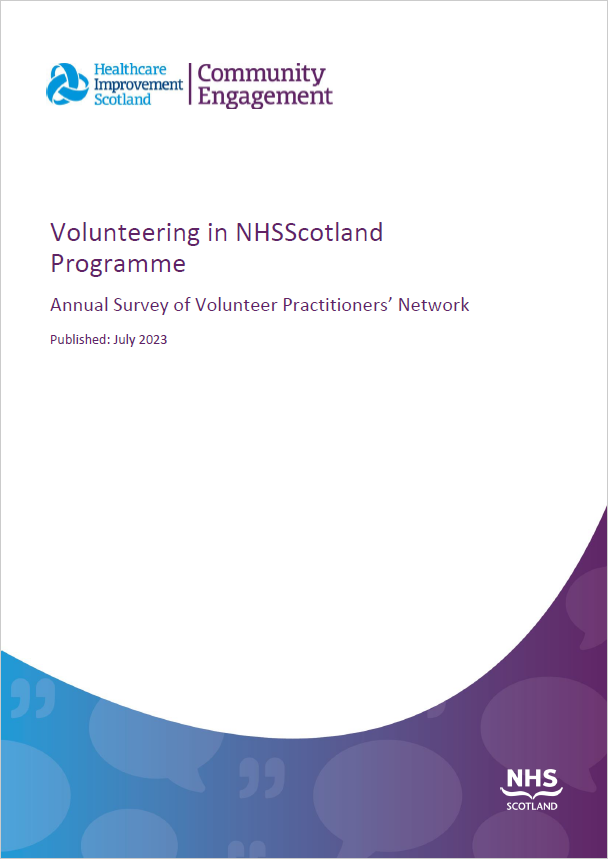 Download our evaluation report
File type: pdf
File size: 817 KB
Publication date: July 2023