Volunteers' Week: Having a blether has made all the difference
Volunteers' Week: Having a blether has made all the difference
Volunteers' Week: Having a blether has made all the difference
Dedicated NHS Lothian volunteer Hazel Murray provides friendship and support to patients and carers
Hazel Murray has had two roles with NHS Lothian during the 18 months she has been volunteering there.
Through both roles, Hazel has made a weekly commitment of three hours a week to support vulnerable people at risk of isolation and their carers.
Initially, Hazel was a befriender with the Fancy a Blether project, supporting a single mother who had complex needs at the height of the pandemic.  Fancy a Blether volunteers offer individuals who are socially isolated a weekly phone call or outing to help them feel less lonely, enhance wellbeing, and support them to work towards goals and overcome barriers, to help make links within their community.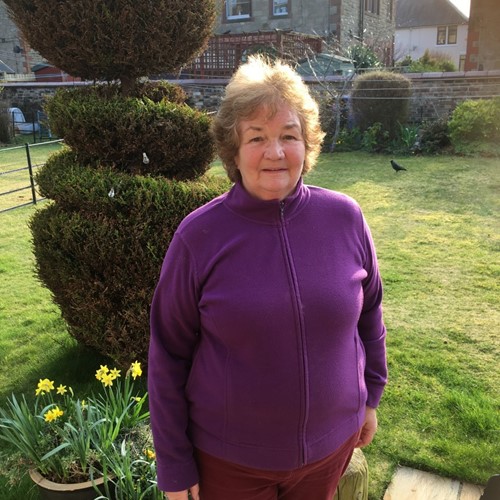 Hazel provided weekly telephone contact as restrictions made it difficult to meet face to face.  The calls provided her befriendee with a listening ear, conversation, and encouragement. Topics of conversation ranged from the challenges presented by Covid and home schooling, to encouragement to address own health issues through giving up smoking, to new pets that were giving a lot of pleasure.
The client's mood was variable and Hazel adjusted her conversation to respond to this. She was able to give her befriendee space to share concerns and helped her identify positives in the situation and actions to move forward.  Hazel's befriendee reported looking forward to the calls and noted she felt she 'had found a friend in Hazel'. 
Ready for a new challenge and keen to use her skills from her working life, Hazel helped NHS Lothian launch a new service to give carers a break and provide support and stimulation to their loved ones.
Carer Relief Companions relieve carer stress by giving the opportunity for some time away from caring responsibilities.
Volunteers spend time with a cared for person in their own home, potentially doing reminiscence activities, games or craft together, while their informal carer is able to leave the home, in the knowledge that their loved one is safe and has company. This is important because it is known that caring can have a negative impact on mental and physical wellbeing of carers. In a 2021 study by Carers Trust, 91% of carers responding noted that they were stressed more or much more than usual.
Hazel is matched with two families providing a regular weekly break to both. Hazel is supporting a gentleman who has dementia and his daughter, who is using the time Hazel is with her father to be able to switch off and focus on herself without having to check in.  Hazel is also supporting a lady who has mobility issues and sight loss, they enjoy chatting about crafts and playing cards together which allows her daughter time to work which she was struggling to manage previously.
She has recently been reminiscing with photographs, singing songs, sharing her own craft projects and playing dominos with them as a result, which has gone very well.
Jane Greenacre, Head of Volunteering, NHS Lothian, and Susan Rose, Voluntary Services Manager, Midlothian HSCP, said: "We feel lucky to have a volunteer as supportive and dedicated as Hazel and know that the families she has volunteered with are very happy to have been matched with her."
Profile by Jane Greenacre, Head of Volunteering, NHS Lothian, and Susan Rose, Voluntary Services Manager, Midlothian HSCP, as part of Volunteers' Week 2022