Volunteers week: Helping can change the lives of people in need - and volunteers themselves
VOLUNTEERS' WEEK: HELPING CAN CHANGE THE LIVES OF PEOPLE IN NEED – AND VOLUNTEERS THEMSELVES
Elaine Penman, Royal Alexandra Hospital AHP Support Volunteer, has changed her life for the better since she began her journey
Volunteers week: Helping can change the lives of people in need - and volunteers themselves
Volunteers week: Helping can change the lives of people in need - and volunteers themselves
Elaine Penman, Royal Alexandra Hospital AHP Support Volunteer, has changed her life for the better since she began her journey
Elaine Penman has been volunteering at NHS Greater Glasgow & Clyde for more than five years, in a variety of roles.
She started her NHS volunteer journey by helping out at the Queen Elizabeth University Hospital, assisting the activities coordinators in providing specialist rehabilitation for older people.
Shortly afterwards, Elaine registered on the dietetics course at Glasgow Caledonian University and was persuaded to join the orthopaedics team at the Royal Alexandra Hospital (RAH) where she assisted with mealtime support and also with physio rehabilitation.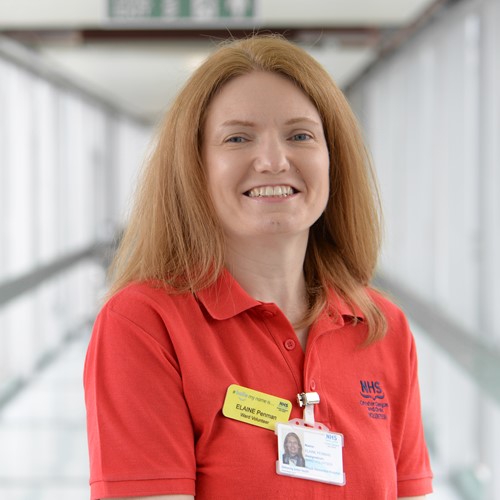 Elaine actively continued her support throughout the pandemic as part of the RAH Volunteer Covid Response Team. Within this role, she helped with everything from coordinating donation distribution to being a key part of the valuable Give and Go service.
Once visitors returned to the wards, Elaine resumed her work supporting the physio team where she made an enormous difference to patients in their recovery, ensuring they took part in vital exercises whilst having a blether.
Elaine said: "Transitioning from an office job in community pharmacy to frontline healthcare, I was keen to explore primary and secondary settings whilst studying.  
"I enjoy meeting new people and supporting patients during their time in hospital, whether it's doing seated exercises, filling up their water jug, talking about food and nutrition or having a general chat to pass the day.  
"Building confidence in interacting with patients and feeling comfortable in the ward environment has been great.  Every shift is a learning experience!"
In April 2022, Elaine was offered a paid role as a dietician in her local health board. Whilst the team are sad to be losing Elaine as a volunteer, they are absolutely delighted that she has progressed onto her chosen career path.
Elaine was interviewed by Harry Balch, Volunteering Services Manager, NHS Greater Glasgow & Clyde as part of Volunteers' Week 2022