Volunteers' week: Sammy is a non-stop superhero in all his teams
Volunteers' week: Sammy is a non-stop superhero in all his teams
Volunteers' Week: Sammy is a non-stop superhero in all of his teams 


NHS Lothian's volunteer Sammy McKee's care and compassion shines through
Sammy McKee was keen to support his local community and the NHS during the pandemic, and decided to do something about it.
He joined the NHS Lothian volunteer team in March 2020, and since then, Sammy has given more than 750 hours of his time, volunteering twice a week (often three times a week) in a variety of roles ­– and he has done all of this alongside family and other commitments and with continual  professionalism and good humour.
From his first contact to date, Sammy has embodied NHS Lothian's values of care and compassion, dignity and respect, quality, team work, and openness, honestly and responsibility.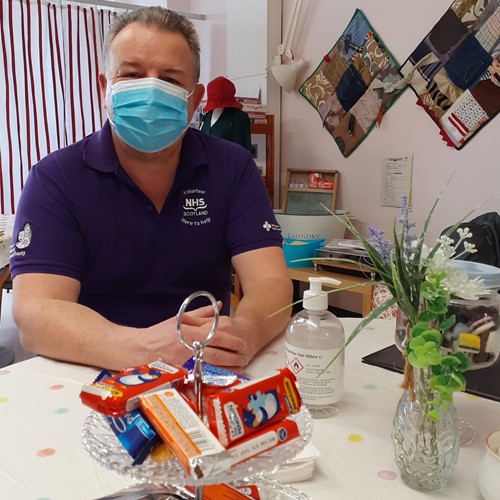 Sammy has demonstrated his care and compassion for others as a volunteer in a care of the elderly ward where he supports patients where he has volunteered since March 2020. He has consistently treated the patients with dementia – at  the meaningful activity centre at St John's Hospital, Livingston - with dignity and respect, spending time getting to know patients, their likes and interests, and planning activities to do with them one-to-one or in small groups.
Sammy has demonstrated his commitment to quality by actively participating in the Voluntary Services Team's optional training programme giving up yet even more of his time to learn and develop his skills. 
Everyone who has worked alongside Sammy – whether staff or a volunteer – would agree that he is a team player, having changed his usual volunteering site to support another volunteer who was lacking on confidence, and took on extra shifts to cover for colleagues unable to attend.
Sammy has two main roles with NHS Lothian, as a ward helper in a medicine of the elderly ward In Findlay House, and as an activities volunteer in the Meaningful Activity Centre at St John's Hospital.  Alongside these roles, he has also volunteered as a vaccination clinic guide for five months.
As a ward helper helps with meal distribution and the tea trolley, the mealtime tidy up after eating,   supports patients to eat by providing company, encouragement and practical assistance, having been trained to safely feed patients who need assistance.  He has a number of other roles, including building relationships with patients, including taking them in a wheelchair to spend time in the garden. 
As a vaccination clinic guide, Sammy welcomes people to the clinics, guides them through the process giving explanations about what would happen next, how long things might take, giving directions, and reassuring the nervous.
And at the Meaningful Activity Centre, Sammy helps patients take part in games or bingo, looks at books and newspaper articles from yesteryear, listens to music and enjoys karaoke to some old favourites.   
Frances Aitken, Dementia Nurse Specialist, has praised Sammy's work there, and said: "This has led to improved experience for the patient and an improved journey into their next care provision."
John Harrison, Vaccination Centre Facilities, added: "The volunteers are great. They are helpful, supportive and contribute to providing a friendly and welcoming environment for the patients. I believe that overall, they add positively to the patients experience when visiting the vaccination centre."
Profile by Jane Greenacre, Head of Volunteering, NHS Lothian, as part of Volunteers' Week 2022