Gathering views
Register of interests for Scotland
A public petition was lodged before the Scottish Parliament in September 2013 calling for the Parliament to urge the Scottish Government to introduce a "Sunshine Act" for Scotland. This would create a searchable record of all payments (including payments in kind) made to NHSScotland healthcare workers from industry and commerce, including pharmaceutical companies.
The Scottish Government asked us to obtain views from the public on the potential introduction of a Register of Interests for Scotland. In line with our normal practice of gathering public views on a specific subject, we organised and facilitated discussion groups in all 14 NHS Board areas across Scotland, using a standard set of questions, which was developed in conjunction with the Scottish Government. A total of 81 people were involved through focus group discussions, responding to questionnaires or telephone interviews. This activity was not undertaken either as formal research nor as a full public consultation exercise.
We summarise what people told us in this report, Gathering views on a register of interests for Scotland.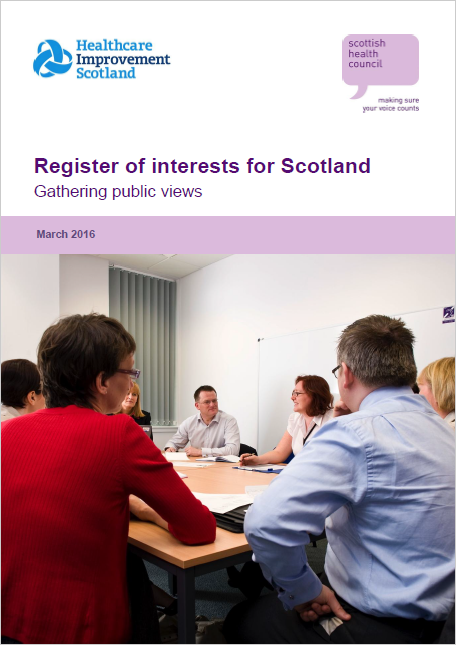 Download report
File type: pdf
File size: 1 MB
Publication date: March 2016
Impact
The Cabinet Secretary for Health, Wellbeing and Sport shared this report with the Public Petitions Committee in March 2016, promising that the Scottish Government would discuss the contents of the report with the appropriate regulators, and scope out options of how mandatory publication of payments to healthcare professionals from industry could be delivered – while ensuring that options were proportionate and respectful of NHS resources. On the basis of this commitment, the Public Petitions Committee agreed to close the petition.