Research
Area Drug and Therapeutics Committees
Approaches to public involvement in Area Drug and Therapeutics Committees in Scotland
We carried out a series of telephone interviews with representatives from the 14 Area Drug and Therapeutics Committees (ADTCs) across Scotland, in order to explore the perspectives of healthcare professionals on how well members of the public are involved in the work of the ADTCs.
This report was commissioned by the ADTC Collaborative and shares some of the learning on public involvement.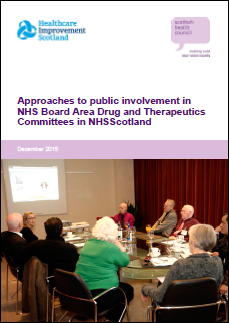 Download report
File type: pdf
File size: 432 KB
Publication date: December 2015
A total of 12 ADTCs involve members of the public, either on their main committee or on sub-committees. Approaches varied but most described it as a good experience with positive impact. Including at least one public partner helps to maintain a focus on the needs of patients, improves communication and helps to educate communities on issues related to medicines.
Some of the more challenging aspects include recruitment and training, dealing with technical discussions and confidential matters and the impact of individuals' health on their ability to participate. Support provided by ADTCs included induction programmes, sending papers in advance of meetings and providing a named contact for additional support.