Research
Engagement in GP practices
Patient and public engagement in GP practices in Scotland
We promote and support improvements in the quality and extent of public involvement across the NHS in Scotland. We support NHS boards and other primary care service providers to gather and respond to feedback from people and local communities, so that services are informed by – and responsive to – their needs and preferences.
To inform this work, we asked GP practices across Scotland about their current engagement with patients and the public as active participants in service and practice decision-making. We wanted to find out why they engage with people, how they are doing it, what works well and what kind of impact public engagement has had.
In April and May 2019 we carried out a survey with all 944 GP practices in Scotland; 40% of practices responded and their feedback has allowed us to build an understanding of why, how and how well they engage with the public.
This report sets out the findings from our survey and will inform, improve and tailor the support we provide to GP practices to help them engage meaningfully with the public. Key findings include: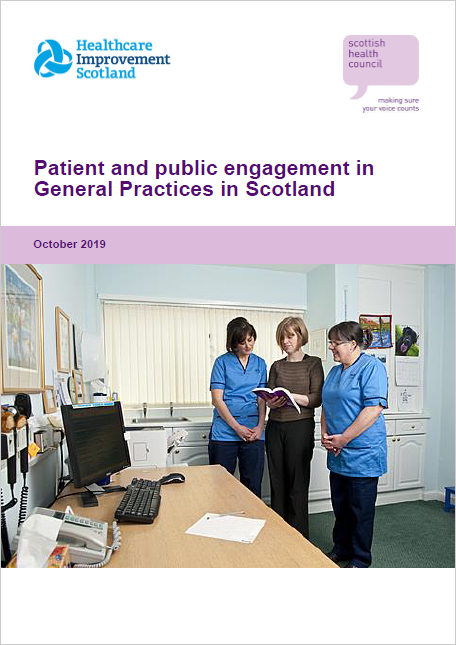 Download report
File type: pdf
File size: 1 MB
Publication date: October 2019
54% of respondents said they purposefully engage with the public and invite patients to give feedback on a range of issues.
The most popular methods used to engage with the public were practice websites (used by 83% of practices that engage with the public), patient feedback boxes (76%) and paper-based communications (73%).
73% of GP practices that engage with the public felt it had a positive impact on patient experience and 76% said it had improved communications between the practice and patients. 66% said it had benefitted service delivery.
We would like to thank all GP practices that responded to our survey. We appreciate the time taken to provide us with information about their current engagement and look forward to working together in future.