Major service change reports
Monklands Replacement Project
NHS Lanarkshire's engagement on the Monklands Replacement Project
This report sets out our assessment of whether NHS Lanarkshire's engagement on the Monklands Replacement Project followed Scottish Government guidance, which requires that NHS boards seek, listen to and act on the views of potentially affected people and communities when proposing changes to services.
It is our view that NHS Lanarkshire has met the expectations set out in our recommendations of 2019.
From our assessment, we have found that NHS Lanarkshire has followed national guidance to date in relation to public engagement and option appraisal on the Monklands Replacement Project. This will support NHS Lanarkshire in identifying a preferred location option to take forward.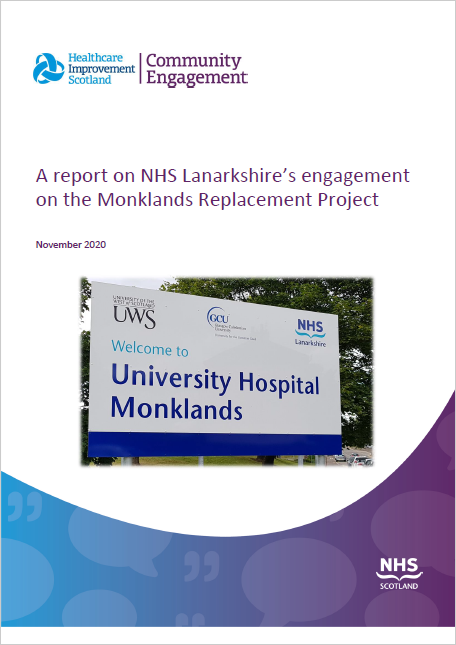 Download report
File type: pdf
File size: 1 MB
Publication date: November 2020
Background
From August to October 2018, NHS Lanarkshire undertook a public consultation on the replacement or refurbishment of University Hospital Monklands.
In June 2019, we published an assessment of NHS Lanarkshire's engagement and consultation process which found that the requirements of the national guidance had not been fully met. We made 4 recommendations for NHS Lanarkshire to assist them in their next steps.
Following public consultation, and prior to the Board of NHS Lanarkshire recommending a preferred option, the Cabinet Secretary for Health and Sport announced a broader independent review of the processes undertaken by NHS Lanarkshire to plan for the redevelopment of Monklands Hospital. The independent review panel published its report in June 2019 and made 3 recommendations to help restore public confidence in the process.
Further engagement
Over the past 12 months, NHS Lanarkshire has taken forward a rigorous approach to engagement in line with the recommendations which we and the independent review made.
Our findings are based on our attendance at events, information materials shared by NHS Lanarkshire, evaluation feedback and review of online social media platforms and local media.
At the time of making our recommendations in 2019, the site option for a new University Hospital Monklands at Wester Moffat had not been identified. We consider the open process for members of the public and others to identify potential alternative sites for the new University Hospital Monklands as demonstrating a live and dynamic process. In this instance it resulted in a third viable option being identified.
Recommendations
At the time of writing this report (November 2020) NHS Lanarkshire has not identified a preferred option for the location of a new University Hospital Monklands.
The wider engagement on the 3 sites - Gartcosh, Glenmavis and Wester Moffat - over the last 12 months has been robust, and it is our view that any further public engagement or consultation should serve to add value to the process.
Our recommendations to the Board of NHS Lanarkshire as it proceeds with identifying a preferred option for the location of the new hospital are:
Actively involve service users, community representatives, staff and the third sector in reviewing the concerns raised and co-designing solutions to issues arising from the location. Regardless of which location is supported or preferred, the outcome is likely to leave some communities feeling disenfranchised and it is important that steps are taken to address this. This will include engaging with people on how the new hospital may operate within the strategic aims of Achieving Excellence.
Consider how proposed mitigating factors identified in the Fairer Scotland Duty assessment may be 'tested' and refined with communities who will be most impacted. For example, public transport and travel infrastructure have been consistently raised as a concern throughout the process and apply to all three locations. NHS Lanarkshire must provide assurance that they understand these concerns and will work with communities to address them.
Engage with us to determine what further focused and proportionate public engagement or consultation may be required once a preferred location is identified. This is in recognition that whilst all 3 sites have been subject to robust public engagement over the past 12 months, Wester Moffat has not been the subject of formal public consultation, which the other locations of Gartcosh and Glenmavis were in 2018.
Provide feedback to people on NHS Lanarkshire's preferred location for the new University Hospital Monklands, demonstrating how the views received through the public consultation in 2018 and engagement in 2020 was taken into account.
Discuss with us how we could help support the co-design of the proposed Health and Wellbeing Hub on the existing University Hospital Monklands site.