Service change resources
Identifying major service change
Identifying 'major' health service changes
This guidance provides NHS boards, and their communities, with a framework that will help them to identify potentially major service changes. It will help boards to carry out a conversation with key stakeholders in order to agree a consensus view. Our Service Change Team can advise on using this guidance.
There are other factors that NHS boards will consider to be important drivers for change, including workforce issues and clinical standards. However, this paper concentrates on key issues that are relevant for identifying when a proposed service change might be classed as major, including:
the impact on patients and carers
changes in the accessibility of services
emergency and unscheduled care
public or political concern
Conflict with national policy or professional recommendations
changes in the method of service delivery
financial implications, and
consequences for other services.
The decision on whether a service change should be regarded as major ultimately rests with Scottish Government ministers. However, when making their decision, ministers will consider the process that NHS boards have followed in reaching their own view.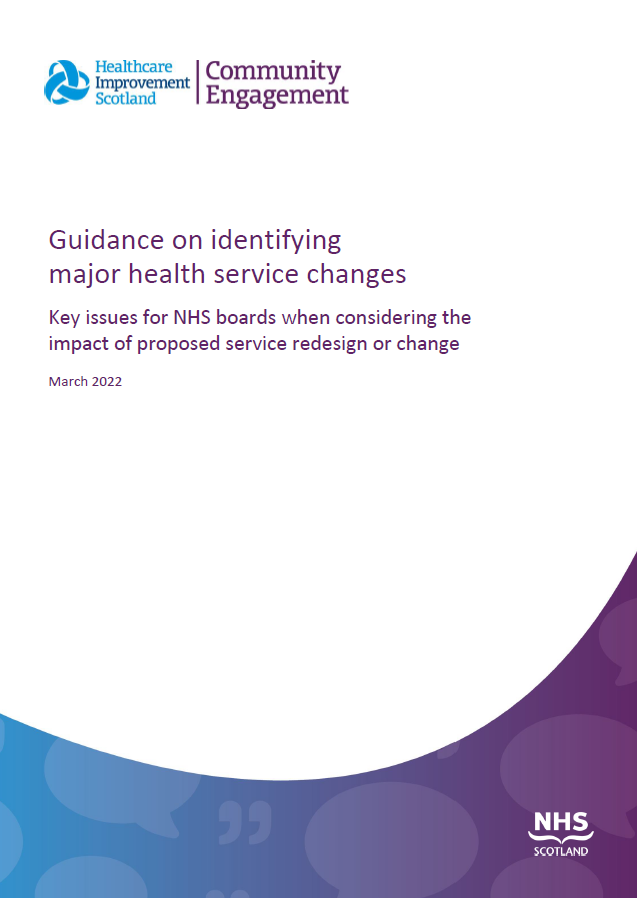 Download our guide
File type: pdf
File size: 880 KB
Publication date: March 2022