Service change resources
Tips for effective engagement
Tips to support effective engagement
Our Service Change team works with NHS boards and integration Joint Boards to make sure that they involve people in a proportionate process, and in an open and transparent way, when planning and delivering changes to services.
Since the current previous CEL4 (2010) guidance was issued in 2010, we have been involved in over 300 service changes, advising and supporting NHS boards and integration Joint Boards to develop their communication and engagement process. When the Scottish Government considers a proposal to be a 'major' service change, we also have a quality assurance role and report on whether the process has complied with the guidance. To date, we have provided quality assurance for 10 major service changes.
Our Tips to Support Effective Engagement are aimed at healthcare professionals planning changes to services, and are designed to:
inform NHS Boards' and integration Joint Boards' engagement activities to involve local people in developing options for making changes to services, and
ensure that decision-making takes account of the views of potentially affected people and communities.
The tips should be read alongside current Scottish Government guidance.
Share your own tips using the hashtag #tips4engagement.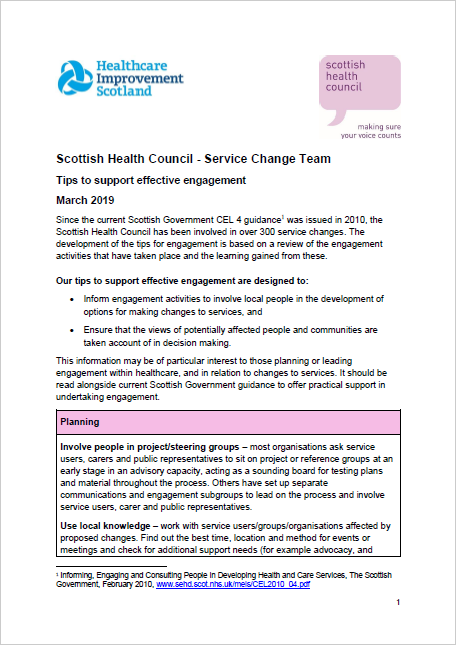 Download our tips
File type: pdf
File size: 269 KB
Publication date: March 2019