Devon Virtual Voices Panel
Devon Virtual Voices Panel
An online citizens' panel has been an effective way to gather a representative view from the population of Devon, helping to shape appropriate health messaging.
Devon's current population is 1.2 million and being able to reach that number of people in face-to-face engagement is a huge challenge, given resources are finite in the Devon Sustainability and Transformation Partnership (STP).
The Partnership – made up of NHS, local authority and community partners – aims to meaningfully engage, listen and respond to the population of Devon on what matters to them and will affect them when accessing health and care services.
In order to meet this engagement challenge, NHS Devon Clinical Commissioning Group (CCG) established an online citizens' panel, Devon Virtual Voices. What makes the panel unique from other more traditional methods is they are specifically recruited as a representative sample of the Devon population.
What we did
Through the application of ACORN consumer classification, the CCG now has a panel that represents the geography, demography, socio-economic and psychographic make-up of the Devon population. The aim is to minimise any bias and encourage balanced views.
The panel has a current membership of 1,733 with the ambition to increase to 3,000.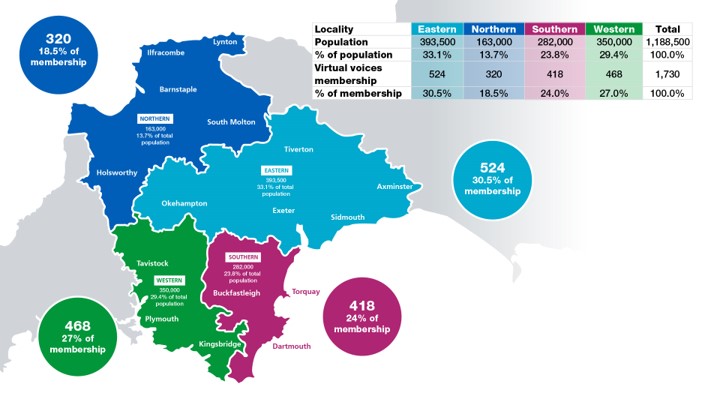 Since the panel was established in June 2019, it has generated over 1,000 pieces of individual feedback purely through online surveys approximately every 6 weeks. This feedback has helped to:
shape the priorities of the health and social care system for the next 5 years in Devon. Our engagement findings were published in December 2019.
create an ethical framework, policy and set of guidelines for the withdrawal of treatments and medicines during the pandemic.
develop key tools and messages to reach people reluctant to turn up for urgent appointments and treatments during the height of the pandemic. Our attendance rates have now returned to pre-COVID-19 levels.
By involving multiple partners, key stakeholders and senior leaders we are able to develop surveys that have clear objectives and outcomes. Each survey the Virtual Voices Panel receives is carefully considered to ensure the most meaningful feedback. Our commitment to panel members is that we tell them what we have done with what they have told us. This ensures a continual cycle of engagement and feedback.
We have most recently used volunteers from our panel to be part of stakeholder focus group for the recruitment of our new Devon Integrated Care System Executive Lead and CCG Accountable Officer.
What worked well
Having a well-established panel of members proved a real asset for the CCG during the height of COVID-19. It enabled us to keep connected with our population and continue our engagement activities to immediately seek views from people about a number of issues.
Like the rest of the country, during COVID-19 Devon saw attendances for some urgent services and appointments fall. Decreases were observed in presentations for suspected cancer and 2-week wait referrals (just 25% of normal referral rate what we would normally see). Acute hospital trusts reported Emergency Department (ED) attendance down between 55 to 65% and paediatric attendances down 30 to 50%. Primary care reported decreases in people attending for routine vaccinations (such as MMR and Pertussis) and cervical screening. It was important that we understand the reasons for these decreases, so we undertook some engagement with our Virtual Voices Panel.  
As part of our "Your NHS is here for you" campaign, we were able to quickly survey our representative group, with 200 people responding in a week, informing us what they needed and how it should be communicated.
In under 3 weeks, we had gathered feedback from a representative group of the Devon population about what would make them feel safe. We tested that insight through our local Quality Improvement Partner Panel, and used that to develop local messages that were used by GPs during telephone triages, in appointment letters (primary and secondary care), and by clinical spokespeople in media interviews and on social media. The messages were focused on the "measures in place to keep you safe", covering social distancing, Personal Protective Equipment (PPE), designated areas for COVID-19 symptomatic patients, testing and temperature checks.
Devon is now reporting that ED attendance rates are now back to normal levels. Cancer and other urgent referrals are back up to normal levels, and routine referrals are up to 75% of normal levels.
This is in no small part down to the work of the panel and the CCG's ability to rapidly understand the needs of people in Devon and design targeted communications. Without the panel this would not have been possible to achieve in such a short time, especially during a pandemic.
As a key part of our commitment to complete the feedback loop, this particular project, along with all the work of our panel, is always written up into an evaluation report and communicated to internal and external stakeholders across the system, and most importantly back to those who have given us their feedback.
One panel member fed back:
"It's such a great platform to really get involved in the decisions about my healthcare. It's quick and easy, and I can see just how my feedback is used."
Challenges
We would have liked to see a higher response rate for the "here for you" campaign – which saw an 11% response rate, compared to our average response rate of 15 to 20%. (The industry standard for online surveys is between 5% and 30%.) However, a very short timeframe did have an impact on our response rate for this survey.
All of the Virtual Voices surveys have a focus on "quality not quantity", and are developed to minimise the time taken to complete them, thus helping to boost response rates. Developing meaningful questions is key, in line with the requirements of the topic (which can include sharing documents or information to help inform the feedback) to ensure a mix of qualitative and quantitative responses without impacting response rates.
This method on its own does disadvantage specific groups – such as people with learning difficulties, people whose first language is not English, and those who are digitally excluded. Online surveys can prevent us from hearing directly from minority or seldom-heard groups. That is why we are keen to ensure that this panel is just one piece of the engagement jigsaw. The panel gives us access to a Devon-wide representative view we can take to specific groups for further work and interpretation to help support our understanding. It does not replace any of our engagement channels, but is complimentary to all our work.
Our next phase of development with the panel is to evaluate it with the panel members themselves. Insight direct from the members will help to inform our panel development plan to recruit more representative members and make the panel more effective and as responsive as possible.
Contact
Jonathan Sewell (Strategic Engagement Manager, NHS Devon Clinical Commissioning Group)
Email: jonathan.sewell@nhs.net