Gathering feedback from volunteers at a distance
Gathering feedback from volunteers at a distance
Staff from our Dumfries and Galloway engagement office have been working with the NHS Dumfries and Galloway Volunteer Coordinator to deliver volunteer peer support sessions. Previously, we met with groups of volunteers in either the local engagement office meeting room or at Dumfries and Galloway Royal Infirmary. Because of the restrictions surrounding COVID-19, we had to look at delivering the session differently.
The volunteers were still meeting with the volunteer coordinator in small groups so we knew it was possible for them to come together to attend a peer support session. However this was not possible for Community Engagement staff as we were working from home. After some discussion we decided that we would use MS Teams. At this point both the volunteer coordinator and ourselves had limited experience of MS Teams so we decided to run a trial session with a small group of volunteers. We have been building on lessons learned and incorporating them into the sessions ever since.
What did we do?
The NHS Dumfries and Galloway peer support group sessions are a combination of engaging in-person and at-a-distance. The NHS volunteers and the volunteer coordinator gather together in a room; we normally use the lecture theatre at Dumfries and Galloway Royal Infirmary which allows the half-a-dozen or so participants appropriate social distance. The local engagement office staff join in via MS Teams and the video call and presentations are displayed on a large screen.
We wanted to gain meaningful feedback from the volunteers about their experiences of volunteering during COVID-19. We also wanted the volunteers to benefit from sharing their experiences and thoughts with other volunteers. We decided that the head, heart, bag and bin method would work well. In a normal workshop situation we would have large poster graphics displayed for participants to write their comments directly onto. To limit infection, we now approach each section one at a time, displaying the question onscreen and giving the participants a couple of minutes to write down their thoughts individually. Then each participant shares verbally what they have written (if they are comfortable doing so).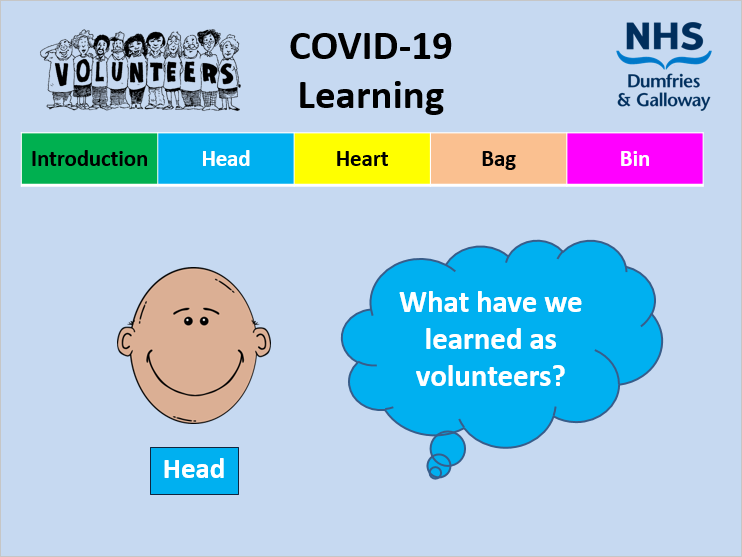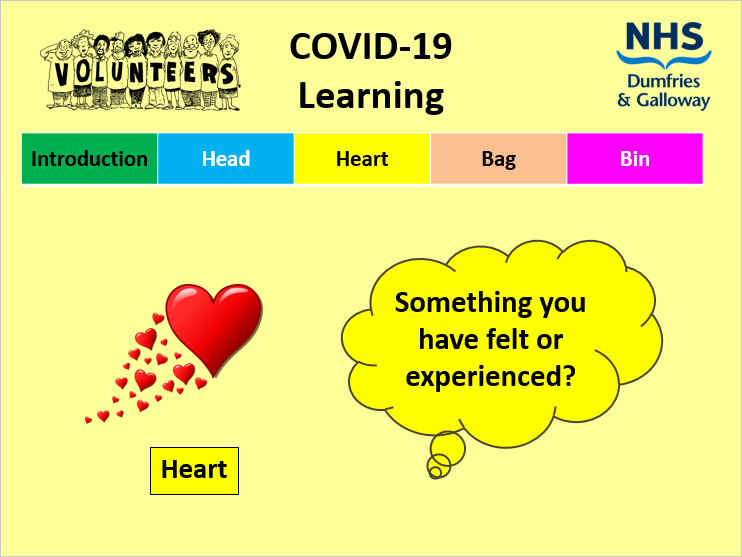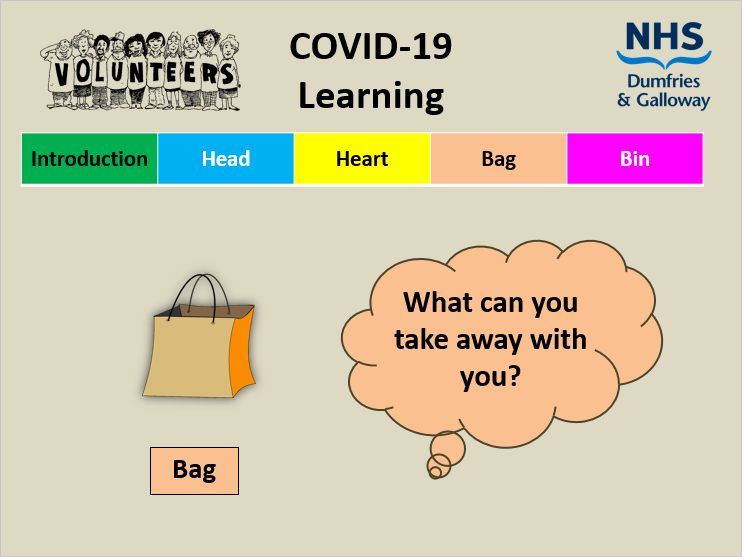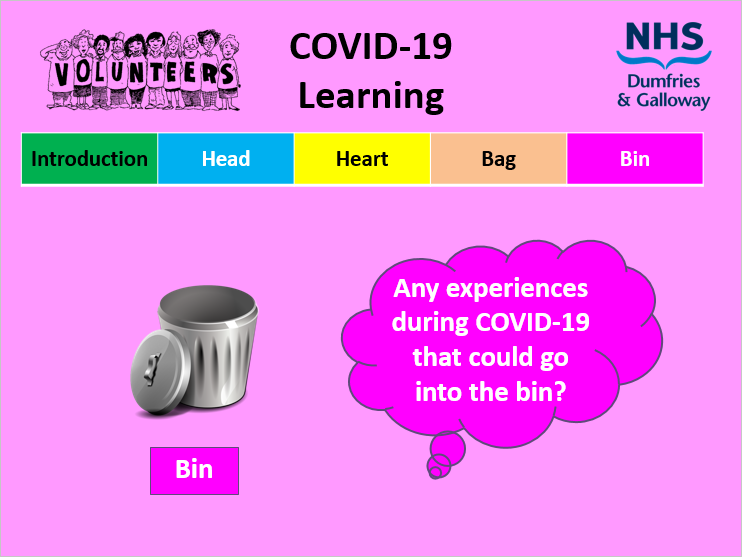 What worked well?
Seven volunteer peer support group sessions have now been delivered with a total of 29 volunteers. The feedback that we captured from participants has been meaningful, useful and emotive, and has helped to shape how later sessions were delivered. Participants have said that this method of using MS Teams worked really well. People felt that they could contribute as easily as before when everyone was in the same room. It is important to say that using MS Teams effectively would not have been possible without the support of the NHS Dumfries and Galloway Volunteer Coordinator at the 'other end'.
What could have gone better?
In one of the rooms we experienced very poor sound quality so we made the decision not to use this room anymore. We miss the informality of taking part in and delivering the sessions in person, in particular having a cup of tea and a chat together afterwards with the volunteers and our colleagues from NHS Dumfries and Galloway. As you can't have refreshments in the room the volunteers use, we arranged for them to meet beforehand in a safe environment to have a coffee and a chat. This is key to building relationships. As we learn more about MS Teams, we hope to develop the sessions further using other tools.
Contact
Julie Davidson, Engagement Officer (Dumfries and Galloway), Healthcare Improvement Scotland
Email: julie.davidson9@nhs.scot
Graphics: NHS Dumfries & Galloway