NHS Tayside use of Mentimeter
NHS Tayside use of Mentimeter
NHS Tayside used electronic voting system Mentimeter to gather realtime feedback from participants at public engagement events.
In 2018 NHS Tayside undertook a series of engagement events to support their 3-year change programme, Transforming Tayside 2019-2022.
While developing their clinical strategy, NHS Tayside used Mentimeter at their public and staff events and workshops to gather initial feedback on ideas and proposals for redesigning services. Participants discussed the acceptability of new models, such as the concept of Centres of Excellence for specialist diagnosis and treatment. They also gave anonymous feedback on a range of issues, such as how willing they would be to travel to another hospital either in or out with the Tayside region for treatment. The organisers also used Mentimeter to gather feedback on the format of the events, and this information helped with the planning of later meetings and engagement events.
The Mentimeter website and app allow the collection and analysis of feedback in real-time. Participants use smartphones to answer polls and short surveys anonymously, and the responses are displayed live on-screen as graphs. The system can also display word clouds of the most commonly-used words and phrases used in free-text responses. Mentimeter can be used alongside presentation software to create interactive presentations.
Participants were supported by NHS Tayside staff to access Mentimeter if they didn't have a smartphone or were unfamiliar with the technology. The Mentimeter feedback was supplemented by more detailed feedback from questionnaires and evaluations.
The approach was also used during the 2019 consultation on changes to orthopaedic services. During an engagement event, participants were asked to answer a series of questions as to whether they supported the proposals or not. This allowed NHS Tayside to gather instant feedback that could be shared with participants there and then.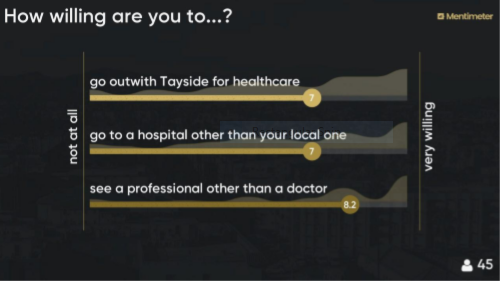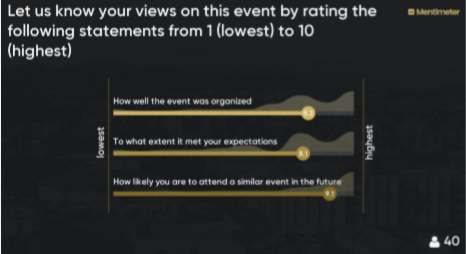 Key learning points
NHS Tayside asked specific questions at its 2018 engagement events about potential new ways of delivering services, such as how willing people would be to travel for treatment. The use of electronic voting meant staff could gather immediate anonymous feedback on the draft strategy. This give people attending, and the organisers, an idea of how other participants felt about the proposals.
NHS Tayside published a report following the events which indicated that people supported the proposals and were willing to travel for better quality care, but they would expect follow-up care to be provided as close to home as possible. The evaluation undertaken at the event was extremely positive about the event format and content.
Our service change team observed that participants had had the opportunity to comment on the concepts of the proposed model, and that NHS Tayside had used the feedback to inform the direction of travel for its clinical strategy and detailed proposals.
Feedback gathered from public engagement events in 2018 on the general clinical strategy helped inform NHS Tayside's proposals for changing orthopaedic services in 2019. For example, the proposals made provision for the transfer of a patient back to their home or local hospital as soon as possible after their unplanned orthopaedic trauma surgery.