Scotland in Lockdown
Researchers at the University of Glasgow interviewed people from isolated and marginalised communities to understand the impact of the COVID-19 lockdown.
The Scotland in Lockdown study, funded by the Chief Scientist Office of Scotland, explored how lockdown impacted people in Scotland who may have been isolated, marginalised and systemically excluded prior to the pandemic. Our 4 study areas focused on the experiences of:
refugees and asylum seekers
survivors of domestic abuse or sexual violence
disabled people and those people with long term health conditions
people involved with the criminal justice system (in prison or community supervised)
What we did
Led by Professor Sarah Armstrong and Dr Lucy Pickering, a team of 28 researchers at the University of Glasgow worked in partnership with 20 third-sector organisations. These ranged from local community-based organisations such as Govan Community Project to national organisations including the Health and Social Care Alliance Scotland (The ALLIANCE). Many of these organisations are frontline, grassroots groups providing direct services, and they greatly facilitated recruitment of research participants. We also benefitted from our partners' expertise in our steering group, guiding the focus of our work. Many contributed directly to a webinar where we shared findings from our work. Partners were actively involved in shaping the research materials and accessible outputs.
We interviewed 136 people over the phone, via Zoom, and a smaller number via email. We carried out a survey with organisations, receiving 63 responses from 56 organisations. We also gathered 96 written reflections from people serving prison sentences during the pandemic through a prisoner survey and by letter. Finally, we conducted targeted analysis of social media accounts to understand how key organisations were supporting their communities during the pandemic.
More information about the engagement methods can be found on the project website.
What worked well
Partnership working
Working closely in partnership with third sector organisations, that have expertise and skills in engaging with and understanding the issues facing their communities, was a strength of the project. As well as supporting participant recruitment and contributing valuable additional data, we gained crucial insights into the challenges faced by both staff in third sector organisations and the communities they support. The experiences of participants gathered through our research – both staff and community members - formed the basis of the report we produced for the Chief Scientist Office of Scotland.
Some of our project partners made data available to us and in some cases engaged in bespoke data collection to support this research through community consultations, interviews, and letters. Our researchers provided reciprocal support for our partners where this was requested, including training on facilitating community focus group consultations, and analysing survey data. We supported partnership working by budgeting for partners' contribution of their time and skills.
"This collaborative project provided a critical voice to communities often unheard or left in stressful circumstances."
Fiona McHardy, The Poverty Alliance
"This partnership has been a great experience for us and the people we serve."
Pinar Aksu, Maryhill Integration Network
Accessibility and Inclusion
We had a strong focus on accessibility and inclusion throughout the project with the collaboration of our partners. For example, we worked with one of our partners to ensure digitally-excluded participants had access to tablets – not only to participate in the research but also for longer-term use – and support to participate in the interviews. We received positive feedback from these participants that they appreciated the opportunity to share their views, and that providing technology to mitigate digital exclusion had also facilitated their participation in their organisations and daily activities. In this sense the project was committed to not only making participation in the research accessible and inclusive, but also to actively impacting on the inequalities produced in and through the pandemic. 
Another organisation included information about the study in their print newsletter to ensure that people who don't have internet access could find out how to participate. We also ensured interpreters were available for interviews and provided Easy Read information to potential participants and an Easy Read briefing on the issue of inaccessible information for people with learning disabilities. Mobile top-up vouchers were supplied to assist participation in interviews where these were needed. This meant that we were able to include populations who experience high levels of social and political marginalisation and those who were restricted in their movements and housing during the lockdown (in particular migrants, refugees and asylum-seekers).
Our end of project webinar – attended by over 200 people with strong representation from local and national government as well as third sector organisations – was designed with accessibility in mind. This included BSL interpreters, closed captioning, and recording the webinar to ensure people who couldn't attend the live broadcast could watch later. We also provided the opportunity to submit questions in advance.
Impact
Following publication of our 18 briefings and reports we also came onto the radar of the Scottish Government COVID-19 analytical unit. The unit recognised that it lacked qualitative data – especially for the excluded groups in our study – and invited us to regularly share our findings. Our final report has been downloaded nearly 800 times, and the study website has had 12,000 views from people in more than 40 countries. Subsequently, we have been invited to present findings to several bodies making or reviewing policy on management of COVID-19 restrictions, including the Scottish Government and the Independent Advisory Group on Temporary Policing Powers during COVID-19.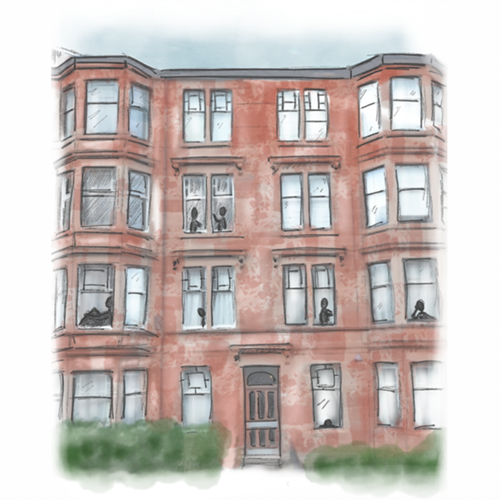 Challenges
The project was conducted in a very short timescale at a fast pace. We recognise that we were unable to interview people who may have been worst impacted by lockdown – including people in care homes, in-patient treatment, or not in contact with services at all. We also understand that many people experiencing extreme adversity may not have been in a place where they could participate in a research interview. As such, a more targeted focus on people living in assisted accommodation would have helped us to represent these communities.
Our study only captured views during the initial lockdown (spring to mid-autumn 2020) and at the time of the interviews restrictions were being lifted. Therefore, we did not capture people's experiences of subsequent lockdowns and restrictions.
No one came forward to participate who reported having had COVID-19 so we do not have any accounts of people who had first-hand experience of contracting the virus or of living with long COVID