Major service change report
Transforming Surgical Services in Tayside
NHS Tayside's consultation on proposals for transforming surgical services in Tayside
This report sets out our assessment of whether NHS Tayside's engagement and consultation process for transforming surgical services in Tayside followed Scottish Government guidance, which requires that NHS boards seek, listen to and act on the views of potentially affected people and communities when proposing changes to services.
Based on the evidence outlined in this report, our view is that NHS Tayside has followed the national guidance set out by the Scottish Government.
We made the following recommendations to support the points raised during the consultation and to inform decision-making, communication of any decision and next steps.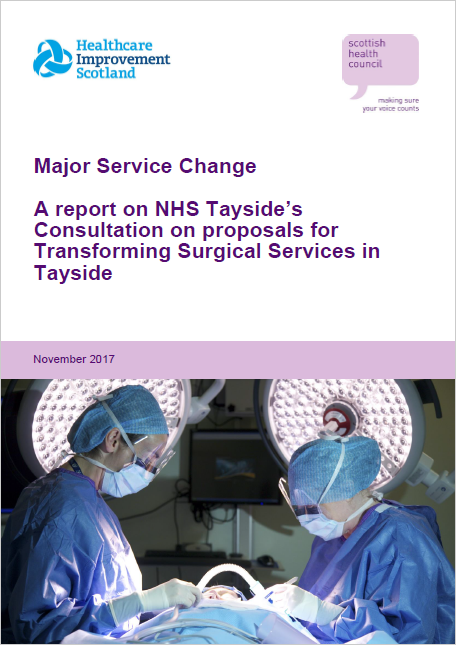 Download report
File type: pdf
File size: 1 MB
Publication date: November 2017
Recommendations
We recommend that, as part of its decision-making process on the proposed model, NHS Tayside should:
arrange further engagement (prior to any implementation) with patient, carers, staff and third sector representatives to consider how the issues raised about the Scottish Ambulance Service capacity and travel could be addressed.
give genuine consideration to any alternative proposals put forward during the consultation and provide clear explanations for making any recommendations which appear to conflict with the views of local people.
confirm that Accident and Emergency services at Perth Royal Infirmary are not within the scope of these proposals.
provide reassurance in relation to the future use of the surgical unit at Stracathro Hospital.
clarify where pre- and post-operative care will be delivered for both elective and unscheduled surgery.
clarify where people living in Angus and Dundee would receive elective surgery.
clarify how the implementation of the proposals would link with, and take account of, the reviews being undertaken in the Health and Social Care Partnerships and the Tayside Transformation Programme.