Start-up guide for Participation Groups in Scotland
The Start-Up Guide for Participation Groups in Scotland will help health and social care providers, service users, carers, communities and members of the public who want to establish a Participation Group.
The guide includes advice on
how to ensure the group is properly representative
the key steps that should be followed in the early stages of establishing the group
holding meetings, and
practical tips for maintaining momentum.
It also includes templates and example documents to help groups to prepare terms of reference, agree roles and responsibilities and keep an accurate record of meetings.
Involving communities and the public is a very important part of improving the quality of services provided within the health and social care sector. Effective public involvement can:
act as a driver for change and improvement in policy and services
help improve the health and wellbeing of participants, and
help strengthen public confidence and accountability in health and social care.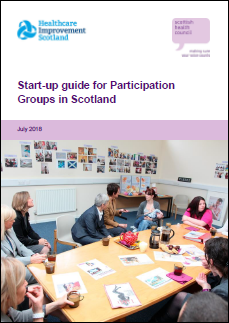 Download our guide
File type: pdf
File size: 1 MB
Publication date: July 2018