Virtual Visiting scoping exercise
NHS boards across Scotland are starting to use Virtual Visiting as a way to keep patients in touch with their loved ones. 
In May 2020, the Scottish Government asked us to carry out a scoping exercise to understand how Virtual Visiting was being rolled out across all in-patient facilities in NHS Scotland and to ensure this was equitable.
The scoping considered the following:
current demand for Virtual Visiting capability across NHS Scotland, taking into account access and equality issues
requirements for purchase of electronic devices to enable Virtual Visiting to take place
connectivity capability within wards and hospitals (including access to WiFi or 4G and IT issues)
technologies, systems and procedures already in place and being used to support Virtual Visiting – aiming to gather good practice around infection control, training and security

The survey showed that Person-Centred Virtual Visiting is continuing to evolve in each board area with new practices, procedures and guidelines being produced and updated.
Most NHS boards indicated that they wish to develop and progress their Person-Centred Virtual Visiting further and shared many examples of current good practice.
Challenges
The main issues that boards identified were:
IT capabilities and capacity
accessibility of devices, training and support
security and privacy for patients and their families
confidence of staff, patients and family, friends and carers to use the service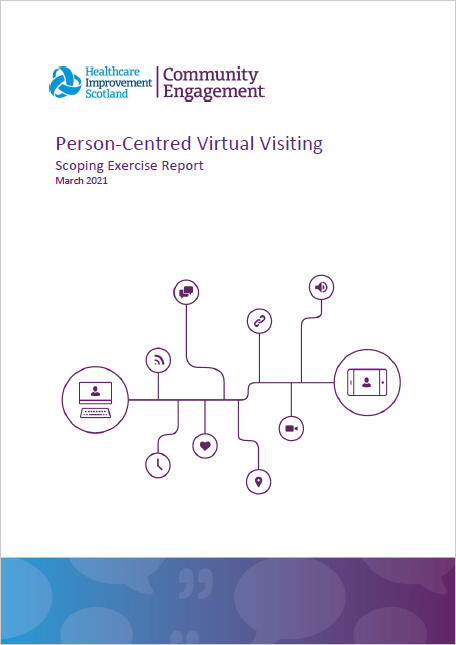 Download scoping report
File type: pdf
File size: 837 KB
Publication date: March 2021
Resolving challenges
Boards told us they have introduced a number of measures to help overcome these challenges:
testing different devices to see what works best
purchasing 4G devices to overcome WiFi problems
supporting patients to use the equipment
use of endowment funds to purchase devices
greater use of Near Me
staff training and 'how to' guides and leaflets for users
promoting Connecting Scotland to families
using volunteers and Healthcare Support Workers to support patients to make calls
procuring iPad covers so that the devices can stand independently
The scoping exercise also identified useful resources which staff in boards may wish to adapt.
Recommendations
Given some of the gaps and challenges identified in the Phase 1 scoping exercise, we recommed a number of further areas of work in 2 phases:
Phase 2: Supporting further implementation
Funding – funding should be sought to provide additional devices to support the further rollout of Person-Centred Virtual Visiting and ensure the service is provided equitably across all in-patient facilities in NHS Scotland.
Promote equality of access – our national Equality Impact Assessment (EQIA) (PDF 646 KB) identified a number of areas for consideration. In particular, we noted people in hospital living with dementia, and patients on maternity wards who may have been assumed to have access to their own devices. Although some NHS boards have implemented Person-Centred Virtual Visiting, further work is required to improve equality of access. We encourage NHS boards to carry out a local EQIA to support this especially where a decision has been taken to exclude areas from Virtual Visiting. An EQIA will help to understand the potential impacts this may have and how these could be mitigated.
Support staff - share good practice examples and support staff to understand how to undertake Person-Centred Virtual Visiting, and the importance of it for their patients. We should also aim to develop best practice guidance for areas where particular challenges for Virtual Visiting exist.
Improve the family and carer experience – the scoping exercise focused on the staff perspective. Further work is required to understand and, if needed, to improve the experience of patients, families, friends and carers. This will include improving awareness and information provision in accessible formats. We recommend undertaking an early gathering views exercise to capture the experiences of patients, family, friends and carers in using Person-centred Virtual Visiting.
Link to the Connecting Scotland programme to allow staff, families and carers to access equipment to enable Person-Centred Virtual Visiting at home whilst a patient or someone they know is in hospital. We should also develop capacity and capability across the NHS, including establishing a network of digital champions to support Person-Centred Virtual Visiting.
Communications - Develop a communications plan to raise awareness of Person-Centred Virtual Visiting as part of Person-Centred Visiting to ensure that patients and their friends and families are aware of the service.
Webpage - we will continue to develop these webpages as a centralised hub for NHS boards to share and learn from good practice.
Phase 3: Evaluation
As the work is implemented in the first half of 2021, a full national evaluation will be required to understand the impact of Person-Centred Virtual Visiting across NHS Scotland. We plan to carry out this evaluation in autumn 2021.
Update
On 19 March 2021, the Health Secretary Jeane Freeman announced that the Scottish Government would provide funding to health boards to support virtual visiting.
Face-to-face visiting will hopefully restart soon but there will be restrictions for some time, for example only one visitor per patient. Virtual visiting will not replace in-person visiting but will complement this and will become part of the person-centred visiting offer.