Volunteering case studies
David, allotment volunteer, Fife
Volunteering can have an immense effect on an individual's health and wellbeing, particularly their mental health. Lisa Taylor, Project Officer with the Volunteering in NHS Scotland Programme, meets one man whose mental health was greatly improved by giving up some free time to help at an NHS allotment.
I met David Johnstone, an allotment volunteer in the small mining village of Kelty in Fife, for a chat about his role - along with Josie Mitchell, Volunteer Manager, and Peter Sinclair, Horticultural Therapist, who both work for NHS Fife, and who have supported him on his journey to wellness.
David told me he had enjoyed a job as a carer for many years, working with youth groups and young people, but things changed for him. He says, "I was subjected to bullying and harassment in my workplace, and it had a hugely detrimental effect on my health and wellbeing, particularly my mental health."
The workplace situation took many years to resolve, and as a result, David's mental health had taken such a decline that he had to spend some time as an inpatient within mental health services.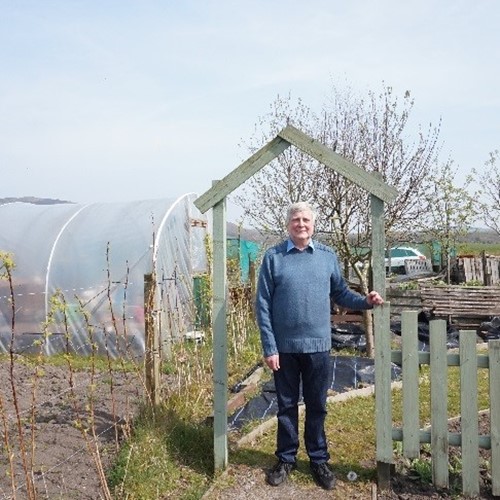 David says, "I became very withdrawn and wanted to be alone. I blamed the world for my problems and could not see a way out of my depression."
David had previously taken some interest in gardening and had some basic skills. Peter supported David and suggested he start volunteering at the NHS allotment in Kelty on a Friday afternoon.
I asked David how Peter has helped him and he said, "Peter helps me massively and has taught me so much about gardening. My health isn't what it used to be, but Peter allows me to make a difference where I can. I now have my own polytunnel, which makes it easier for me to grow fruit and vegetables."
Josie worked hard to get David through all the paperwork and checks to allow him to come on board as a volunteer.
David has now been volunteering for 10 years. I asked him what difference volunteering has made to his life and he told me:
It has saved me. I was so withdrawn and would just be sitting in my house alone if it wasn't for this allotment. I forget all my troubles when I'm here and it has given me freedom.
Some of David's fruit and vegetables from the allotment are given to the mental health wards David previously spent time in. The staff use them to make smoothies for the patients. The volunteer group also holds an annual barbeque for staff, volunteers and patients. David says they are improving their burger grilling skills as the years go on!
It seems to be a real full circle situation for David, and testament to his commitment to, and love of, this piece of land in the picturesque hills of Fife.
David was interviewed by Lisa Taylor from the Volunteering in NHSScotland Programme as part of Volunteers' Week 2019.