Volunteering case studies
Invernevis House care home, Highland
Invernevis House is a care home in Fort William which is funded and managed by NHS Highland. It provides a care service to a maximum of 32 older people, the majority of whom are aged 65 and over. Its main function is to provide a service for older people to enjoy an enhanced quality of life, while continuing to maintain links to the local community.
At 31 March 2017, there were 31,223 long-stay residents in care homes for older people in Scotland. Invernevis House is a rarity, in that it is one of the few community care homes in Scotland funded entirely by the NHS. Care homes are otherwise funded by local councils or privately owned.
When I visited Invernevis House, I felt there was a very welcoming atmosphere and, given it is a permanent home to 29 residents, it was heartening to witness the close and often family-like relationships and connections between staff, patients and volunteers.
Volunteering is fairly new to Invernevis House, and the staff credit Claire Cameron, Care Home Manager, for the development of this. Claire's passion for volunteering is palpable, and she spoke very positively about the difference it has made to Invernevis House. Claire introduced me to staff and volunteers and I also engaged with patients on my visit.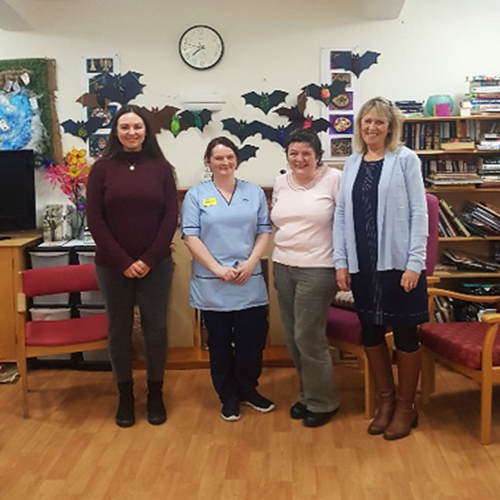 I met with Donna Coltart, Deputy Manager at Invernevis House. She spoke enthusiastically and explained that the volunteers greatly enhance the residents' experience, as they are able to spend one-to-one time with them. This frees up time for staff to focus on their clinical duties. Staff also highlighted that the volunteers reduce their stress levels during their shifts. Donna says, "The staff have the greatest intentions to spend one-on-one time with patients, to chat with them, but due to nature of the roles and staffing, they often don't have much time to do this. The priorities are clinical care, medication and keeping patients well."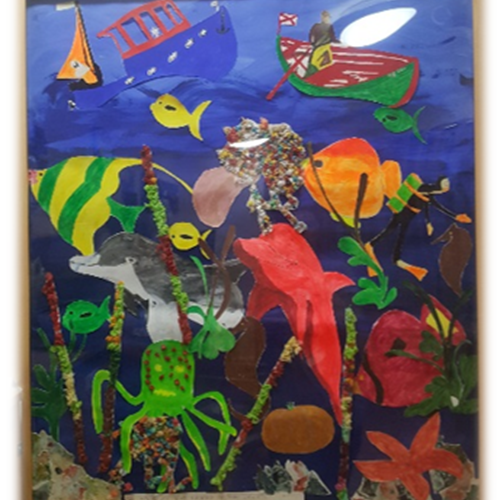 Donna gave me an overview of the types of activities volunteers are involved in. For example, there is a volunteer who plays board games and quizzes with the residents. Donna told me that even something as simple as a quiz to think of words with the letter "S" can be great for cognitive health. She went on to say, "Elderly residents being encouraged to think, learn and remember through games and art, is hugely impactful and they all really enjoy and look forward to these activities."
Donna explained that the care home is currently without an activities coordinator, and so the volunteers are responsible for much of the planning and coordination of games nights. She believes this is an invaluable part of the infrastructure of the care home.
Donna says, "Members of the volunteering team will come in and chat to patients in the communal area. They talk to them about their history, and residents really enjoy telling the story of their life, their family and their past employment. These are often fascinating tales and the residents take great pride in talking about their journey."
Often these chats can turn into singing sessions, with the residents taking turns to sing songs from the old days – something which is enjoyed greatly by everyone involved.
I met with some of the members of the 'Friends of Invernevis', a group of volunteers who support and raise funds for the care home. Some of the members of the group also volunteer directly with the residents, spending time chatting and playing games with them.
I spoke with Alison Kay-Wright, a volunteer and member of the Friends of Invernevis. Alison told me that her dad is currently a resident at the care home and, as she visits him often, she thought she may as well become a volunteer and spend time chatting with other residents who perhaps don't have any family. Alison stated that she was able to help residents with the often difficult transition from home to care home, through talking and letting them tell their story and express how they are feeling. She says, "Older people have had full and fascinating lives and many people forget that. It's important that the latter part of people's lives is a happy time in an environment where they feel valued."
The care home is also involved in an initiative with a local primary school. Pupils spend time chatting with residents and also enjoy share music and art sessions together. Nursing staff told me that the residents and children thoroughly enjoy their time together and learn a lot from each other.
I met with Patricia Kennedy, who is the treasurer of the Friends of Invernevis. She gave me some background information, explaining that the group had been defunct for a number of years, and the care home itself had also been under threat of closure for a while. Thankfully this didn't happen, and in April 2019 the Friends of Invernevis was started up again with Patricia as the treasurer. Patricia's mum was a resident at the care home until she passed away early in 2019. Patricia told me, "It was difficult to come back into the care home after losing my mum, but I felt that I should continue to help the residents and staff at Invernevis House."
Patricia says that all the members of the group have different strengths, but that they all hold the common interest of wanting to give the best possible support to staff and residents. Members see it as a way to give back to the community and, in particular, to the care home that has supported and, in some cases, still supports their family members.
I met five volunteers and three staff members whilst I was visiting Invernevis House, and got a sense of great warmth and friendship between them all. They all give up their free time to come in and make a difference to the lives of the residents, which in turn helps staff to deliver more clinically-effective care.
I came away from Invernevis House with a strong sense of hope, as expressed by the volunteers. They told me much about their hopes for the future of volunteering there, and the continued search for more Friends of Invernevis members. This will strengthen and widen the existing volunteering roles, and support the continued fundraising efforts. This means the residents can continue to enjoy all the volunteering sessions, which enable them to continue to feel like part of their community.
The Invernevis team is testament to the belief that getting older doesn't mean that you have to stop learning, sharing and forming new friendships. Going forward, the team hopes volunteering can continue to make a positive impact, and improve the quality of living for people in later life.
Staff and volunteers from Invernevis House were interviewed by Lisa Taylor from the Volunteering in NHS Scotland Programme at Healthcare Improvement Scotland.