Strategy 2022 - 2026
Our vision for the Volunteering in NHSScotland Programme 2022 - 2026. 
The Volunteering in NHSScotland Programme drives forward the volunteering agenda in NHSScotland through effective leadership, governance, consultancy and expert advice for volunteering across NHSScotland.

Through our work, the quality, effectiveness and impact of volunteering on both NHSScotland and on volunteers themselves will be evidenced through robust gathering of data, evaluation, impact assessment and a commitment to continuous improvement and learning.

We will contribute to the development of volunteering in Scotland through collaboration and partnership working, fostering cross sector relationships to achieve our common goals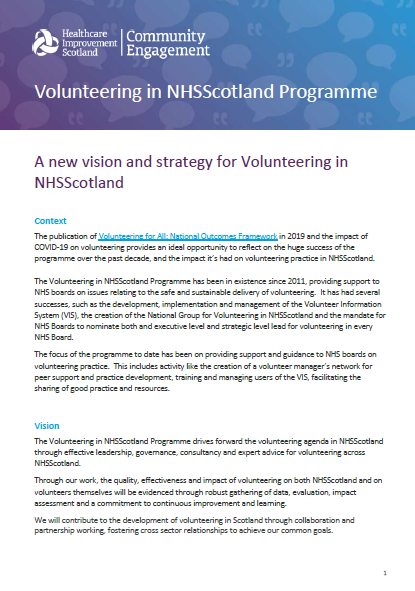 Download
File type: pdf
File size: 603 KB
Publication date: May 2022