Volunteers' Week: Lesley Walker's 1000 hours of volunteering has improved so many lives
Volunteers' Week: Lesley Walker's 1000 hours of volunteering has improved so many lives
Volunteers' Week: Lesley Walker's 1000 hours of volunteering has improved so many lives
The incredible contribution of NHS Lothian volunteer Lesley Walker
Lesley Walker contacted NHS Lothian as the UK went into lockdown in March 2020 to offer her support to staff and patients, at what was an exceptionally challenging time.  
Lesley participated in a fast track recruitment and virtual induction process noting during her interview that: "I am happy to do anything. I just wanted to help out" - and help out she certainly has. 
In early April 2020 Lesley began volunteering twice a week at East Lothian Community Hospital as a ward helper. Lesley has made a phenomenal contribution of nearly 1000 hours since she began supporting a ward with some of the hospital's most poorly patients, many of whom are at end of life.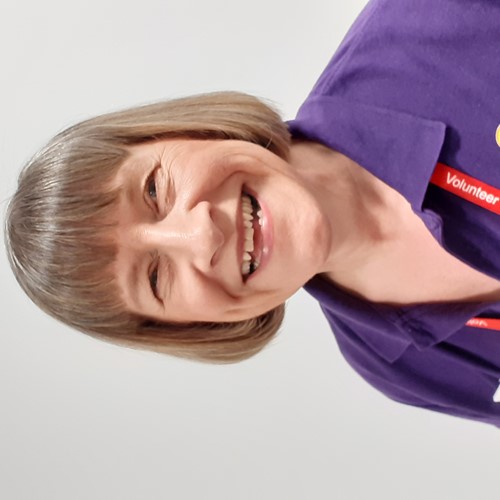 Lesley supports mealtimes, helping with meal distribution and, where appropriate, feeding patients and spending time with them, as well as carrying out several other practical tasks.  Lesley helps the patients alleviate the challenges of a hospital stay through conversation, games, reading and other activities one to one and in small groups. 
The support Lesley provides lifts patients mood, helps them stay active and mobile and supports their family and friends to get some respite. When the vaccination programme began, Lesley was one of the first to come forward to help, and in addition to the contribution she was making to the ward she also began doing regular shifts at the vaccine centre as a welcome guide. 
Lesley's friendly personality and calm manner made her a perfect fit for this role as she was able to reassure and support those coming for vaccinations many of whom were very nervous. Lesley's experience of getting chatting with the ward patients was also useful when things did not go as plan and queues developed. 
In addition to her weekly commitment to the vaccine clinic, Lesley was quick to provide cover for colleagues if they were unable to attend and quickly racked up a further 250 hours of volunteering.
NHS Lothian is keen to improve the voluntary service and Lesley has become an active member of the volunteer reference group who give their time to attend bi-monthly meetings to support the staff team to develop the service. 
Through the reference group, Lesley has helped shape the content of website, the development of new roles, a summer programme for volunteers and the recruitment of new staff to the team. Her insightful comments about her own experiences and her ability to empathise with others have made her invaluable to the group.
Lesley has also supported new volunteers joining the NHS Lothian Volunteer Team as both welcome guides or as ward helpers.  Lesley has helped new volunteers settle in after their initial training by letting them shadow her. Lesley is able to confidently share her knowledge and experience while gently encouraging the new volunteers to give things a go. 
Volunteers consistently report how helpful she is, and how some are nervous at the start but feel confident enough to work independently by the time they go home.
Profile by Jane Greenacre, Head of Volunteering, NHS Lothian, as part of Volunteers' Week 2022