Involving young people during the pandemic
Involving young people during the pandemic
NHS Tayside overcame COVID-19 restrictions to involve children and young people in choosing designs for decorative ceiling panels and the new artwork theme for the new Children's Theatre Suite.
A new Childrens' Theatre Suite is being built at Ninewells Hospital in Dundee. Throughout the planning and build stages of this project, we have involved children, young people, their families, and staff for their views on the new facilities. Before COVID-19 we worked with children and young people face to face in different groups and settings to ensure their views and opinions were fully considered. For example a group of primary school age and younger children had an opportunity to walk round the old theatre and ward areas along with parents and staff. During the walk round staff asked the children questions on how they felt about each area and what would make things better for them. However, due to COVID-19 restrictions we had to find a different approach. This case study details our approaches used during two engagement activities. 
Engagement activity - selection of skypanels
An integral part of the internal design is the skypanels, colourful decorative panels which feature in the ceilings of the ward, anaesthetic rooms and corridors. A suite of images were developed to capture children's imaginations whilst at the same time providing a welcome calming distraction for anyone who might be anxious. In spring 2020 the Project Team wanted to involve children and young people in selecting of the final skypanel designs from a suite of options.
We decided to contact various schools to explore whether we could use some of the Community Support Centres as the focus for engagement. A network of Community Support Centres was established throughout Dundee City in response to the COVID-19 pandemic to provide coordinated support during the crisis, including childcare for key workers and vulnerable children. We also knew that a Scouting Group in Dundee was continuing to meet virtually and we made contact with them. All those approached were very happy to become involved and 5 key groups of children and young people were identified – the Scout Group, two Community Support Centres, one School Care Hub and one School's Out Club. The leaders of the groups were given background information on the project, a plan of the new Children's Theatre Suite showing locations of the skypanels, a list of skypanel design options, a voting sheet, and guidance on involving the children and young people in selecting their preferred options. Responses were requested by a specific date and all of the groups approached submitted their votes. The Project Team reviewed the results and approved the selection of the skypanels which received the greatest number of votes. All of the groups who had participated were contacted to let them know which panels had been chosen.
Engagement activity - selection of artwork theme
Further engagement took place during summer 2021 when children and young people were involved in selecting the new artwork theme for the reception and waiting areas.
Whilst the skypanel engagement was led by the Project Team themselves, the artwork engagement was led by NHS Tayside's Communication and Engagement Team who we recognised possessed the skills to address two areas we had identified for improvement. These were 1) increasing the number of groups/individuals given the opportunity to participate and 2) making it easier and less time intensive to gather and analyse the feedback. Significant improvements were made in both these areas. The Communication and Engagement Team used its existing networks, press contacts and social media platforms to widen the reach of the engagement. Using a standardised method of collecting feedback in the form of an online survey made the collection and analysis of feedback easier and quicker.
We were committed to involving children and young people in selecting a fun and engaging artwork theme for new facility. A local artist developed two artwork themes and a short survey was used to reach out to children, young people and their families, staff and members of the public, asking them to comment and select their preferred theme. A link to the survey was widely shared, including with schools, after school clubs, children's services, young carers, Scouts and Girl Guides, and third sector groups and organisations working with children and young people. Engagement packs were created and delivered to those who were unable to access the survey online, including the children's hospital wards and paediatric outpatients. The survey link was also shared on social media and on NHS Tayside's website. An article was included in the local newspaper along with details on how to participate. The total number of respondents was 761 with the vast majority completing the survey online. Nearly half of the respondents were aged 16 or under, 22% being aged 7 and under. An overwhelming majority voted for the 'Riverside Adventures' theme.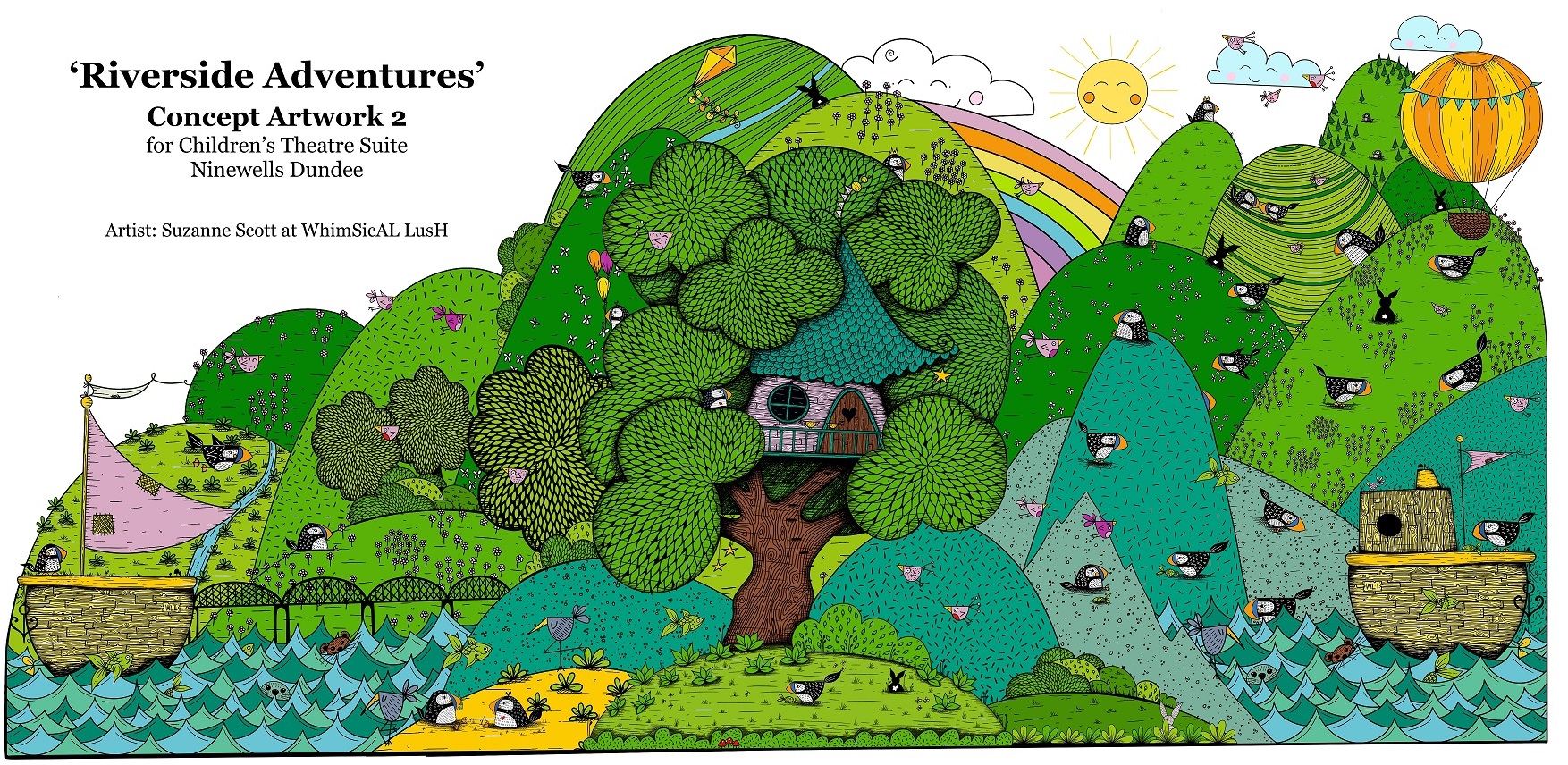 What worked well
During COVID-19 restrictions it was not possible for us to meet with children and young people face-to-face and alternative ways had to be found which meant exploring methods we may not otherwise have used, but which proved to be very successful. The number of children and young people who participated was higher than initially expected, with 134 participating in spring 2020 and 351 in summer 2021. The methods used enabled children and young people from a wide range of backgrounds to be involved, including children of key workers. The engagement was a welcome diversion for the children and young people involved, particularly during the peak restriction period in spring 2020.
Actively going to where the children and young people are was so successful that, for similar engagement in the future, we will consider how to engage with an even greater number of schools and youth groups.
The selections chosen by the children and young people directly informed the Project Team's decisions about which skypanels to approve for purchase and installation and which artwork theme to commission.
Challenges
One aspect that would have been done differently is the way the skypanel votes were received back from the organisations participating. To make it easy for the organisations to be involved, they were given the option of how to send the votes back. Some sent individual scanned voting sheets. Others created their own electronic version. In one instance hard copies were sent. This meant collating the votes was an arduous and time-consuming task which could have been made much simpler if a standard method had been advised. An additional challenge was reaching and involving a wide range of groups and individuals. Both of these challenges that we identified during the skypanel engagement were overcome in artwork engagement by more fully utilising the skills and experience of the NHS Tayside Communication and Engagement Team and using an improved technological method for engagement and analysis.
Find out more
Issue 8 of the Children's Theatre Suite Project newsletter describes in more detail how the young people were involved in choosing the skypanel designs, and includes examples of the final designs.
Issue 11 of the Children's Theatre Suite Project newsletter provides more detail on how children and young people were involved in selecting the artwork theme for the theatre suite.
Final issue of the Children's Theatre Suite Project newsletter provides an overview of the project and photos of the unit when completed. 
Image credit: Facebook/NHS Tayside/Suzanne Scott